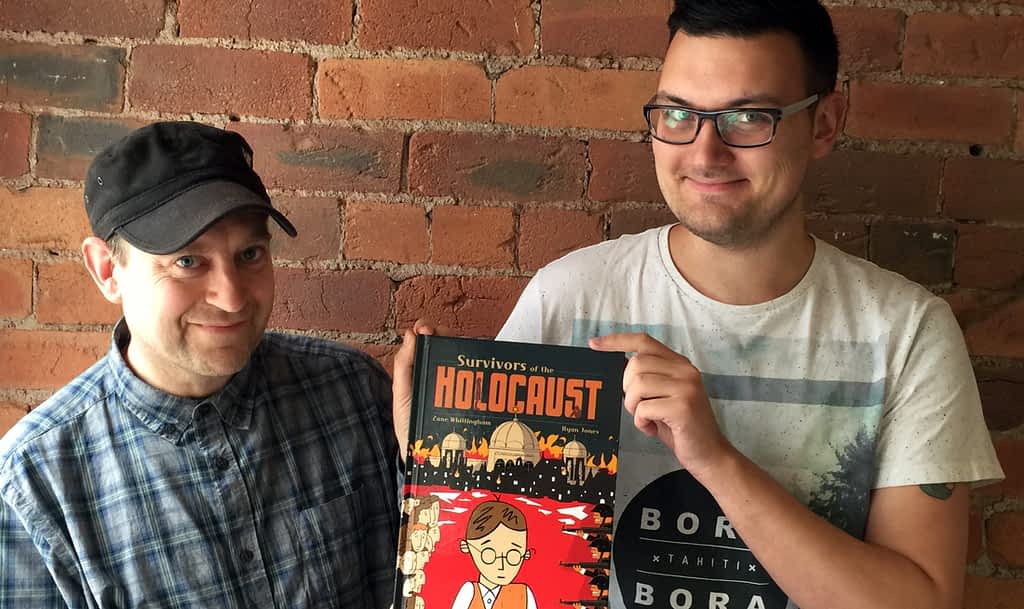 We're so excited at Fettle HQ as our new Graphic Novel Survivors of the Holocaust has been published!
It's on sale in all good bookshops. It's published by the Franklin Watts/Hachette Group and is also available for libraries.
It's based on our multi-award winning animated series Children of the Holocaust made with BBC Learning and charity the Holocaust Survivors Friendship Association. (Changed to Survivors of the Holocaust as the publishers already had a title of the same name!)
It tells the personal stories of 6 young people and how they escaped the cruelty of the Nazis in occupied mainland Europe during World War Two and how  they came to live in the UK.
Animation artist Ryan Jones adapted Zane Whittingham's designs from the animations into a comic strip format, working with editor Julia Bird and Rachel Cook and designer Peter Scoulding at Hachette.
It looks better than we could have ever imagined.  We've worked fastidiously to stay true to the original words of the survivors, and the team at Hachette have added a glossary and web resources for those who want to find out more.  Thankyou so much to everyone involved.
Lilian Black the Chair of the Holocaust Survivors Friendship Association wrote an excellent foreword – here's a sneaky peek …
"Each story you will read in this book is a true account of what happened to six young people over seventy years ago.  Heinz, Trude, Martin, Suzanne and Arek lived at home with their families.  They went to school, enjoyed friendships, had hobbies and hopes for the future.  Then one day their lives changed forever.  They had done nothing wrong.  They were quite simply born into Jewish families and they were persecuted for this reason alone – they were Jewish."
Please support us by buying the book!  A royalty from each sale will support the educational work of the Holocaust Survivor's Friendship Association, who preserve the memories of survivors as a learning resource and promote a more tolerant society.
---
Order a signed copy of Survivors of the Holocaust
directly from Fettle HQ!
96 page paperback graphic novel based on our award-winning animations
Buy for just £9.99 plus £3.30 standard UK postage and packing
Click below to buy…
Please contact us directly if you need to arrange multiple copies, delivery outside the UK
or express delivery.
---
Also available from…
Hachette Children's Book catalogue
Please feel free to leave a review on any of the websites!
Survivors of the Holocaust Kath Shackleton ISBN 9781445150444
---