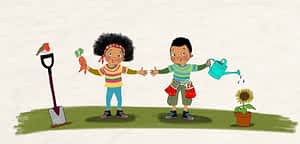 We worked with script writers Trish Cooke, Nicole Davis, Davey Moore and An Vronmbaut to develop a series pitch document and sample scripts.
Illustrator Diane Ewen created characters.
Trish Cooke, Everal T Walsh and Kenya and Kian Bowry voiced the characters
We pitched this virtually during lockdown to Animation Production Days in Stuttgart, the Cinekid Festival in Amsterdam and the Childrens' Media Conference International Exchange
We've had excellent feedback on our script and series bible, and are raising finance to make a pilot episode.