A research project exploring how animation can be playful, child-centred and interactive
Supporting the development of an international, non-dialogue, animated comedy by Zane Whittingham's Fettle Animation for pre-school children.  The research will explore the relationship and activities of Floss, an adventurous alpaca and Em, a crazy emu as they explore the great outdoors together.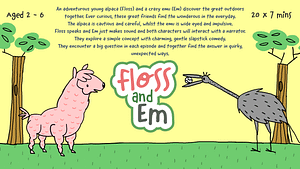 The project will distil the research interests of Dr Becky Parry, Dr Liz Chesworth and Dr Fiona Scott to help Fettle Animation to further define characters, key concepts, stories and a pilot animated short to pitch to international broadcasters and interactive entertainment investors.
The research will address key areas
Defining playfulness – how animated characters can encourage imagination, curiosity, sensory learning and invite children to play.
Quirky characters – how to optimise the contrast between the characters to reflect children's different personality types and learning styles. Maximising appeal of characters.  Exploring comedy archetypes and clowning traditions. Inspiration from real alpacas and emus and their behaviours.
An invitation to play – how the characters can encourage playing outdoors, learning from nature, imitative play, toys, dressing up etc.
Inclusivity – how the characters can help children to embrace difference, diversity and inclusion and involving others with differing abilities.
Key activities
Literature review – pulling together key ideas from relevant desk research.
Defining characters – who are Floss and Em? Discussion – in person or online session. A list of ideas to spark design and sound development.
Learning from real animals – visit real alpacas and emus – find out more about their key behaviours and characteristics. Field trip to a wildlife park.
Storylines and concepts – ideas which offer the most fun and interactivity. Discussion – in person or online session.
Outcomes
Website – a dedicated set of online to showcase learning outcomes achieved.
Sounds – work to develop a set of sounds to define each of the characters.
Animation pilot – up to 3-minute animated short to extend and develop concepts into a format ready to pitch.